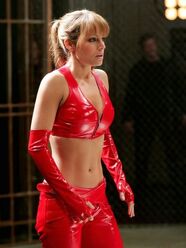 LaShawne Denmarks became the Terminatraafter she began working at the
Kinpin
's fight glub. Her body preduces a massive amount of Adrneline and it gives her amazing strength. When she started commiting heinous crimes,
Peter Parker/Spider-Man
tried to stop her. They fought hand to hand-to-hand combat in the ring and she was aressted. She later began working at a strip club to gain access to a high security vault but Spider-Man aprehenned her
Ad blocker interference detected!
Wikia is a free-to-use site that makes money from advertising. We have a modified experience for viewers using ad blockers

Wikia is not accessible if you've made further modifications. Remove the custom ad blocker rule(s) and the page will load as expected.