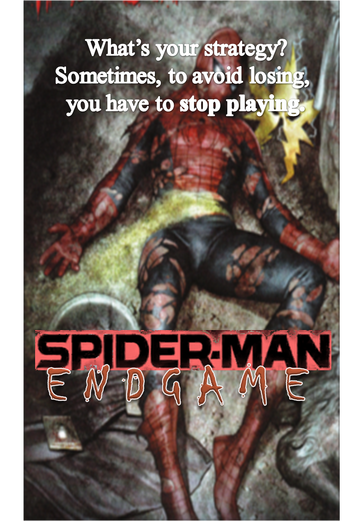 This Article, Spiderman: Endgame, is property of MrFluffman.
"What's your strategy?
"Sometimes the only way to avoid losing is to stop playing."
-Endgame's main tagline.
Spiderman: Endgame is a storyline that was released at Spiderman #700. It was designed to be the last Spiderman issue ever. It was highly previewed and reviewed. It continued into the next three issues before finishing. It is part of Marvel: Endgame, an event in which Marvel plans to launch before they reboot themselves.
From the Endgame website:
"Spiderman's at the end of the line. Everything he knows and loves has been taken, and the rebonding with his symbiote costume has taken a lot out of him. Now, his greatest foes have united to bring him down. It's the final move. The pieces are in place. The players are planning strategy. The game begins. Amazing Spiderman #700 is it. Endgame.
Amazing Spiderman #700:
Spiderman: Endgame"
Characters
Edit
Peter Parker/Spiderman
Rhino
Electro
Green Goblin
Sandman
Others
Reception
Edit
Spiderman: Endgame has enjoyed popular results. Many have praised the comic. IGN said, "While the beginning is rather uninspired, Endgame wraps up the story of Spiderman so well that it's almost sad that it's over." Wizard Magazine marked Spiderman: Endgame 16th on the Top 20 Biggest Events in Comic History: 2012.