Spider Bites is a 3-part short film about Spider-Man. Each part is half an hour. It takes place between The Amazing Spider-Man and The Amazing Spider-Man: Dark Times.
Welcome To Oscorp
Edit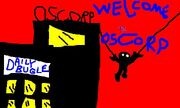 In "Welcome To Oscorp", Norman Osborn is repairing after The Lizard almost destroyed Oscorp Industries. Meanwhile, Spider-Man is chasing a group of mobsters known as "The Enforcers", who robbed Oscorp and stole a strange potion, which they use to turn they're hostage, Mark Raxton, into a brainless mutate made of molten lava!
Andrew Garfield - Peter Parker / Spider-Man
Robet Knepper - Norman Osborn
Matt Willig - Ronald Bloch / Ox
John Hamm - Daniel Brito / Fancy Dan
Ewan McGregor - Jackson Brice / Montanna
TBA
Ad blocker interference detected!
Wikia is a free-to-use site that makes money from advertising. We have a modified experience for viewers using ad blockers

Wikia is not accessible if you've made further modifications. Remove the custom ad blocker rule(s) and the page will load as expected.