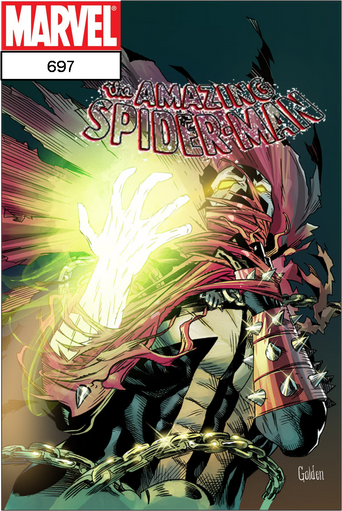 This Article, Spider-Man: Endgame/Pregame, is property of MrFluffman.
Endgame: Pregame is the name of a story that appeared in The Amazing Spider-Man Vol. 2 #697. It was written by Stan Lee and drawn by Todd McFarlane.
Spider-Man has been enjoying the powers he has gained from his mysterious new suit in the past few months. However, when he refuses to kill a robber who looks strikingly similar to the man who murdered Uncle Ben, the suit turns against him, trapping him and forcing him through terrifying visions. It tells him that his friends and family have been plotting against him, that they hate him. Peter refuses to believe this, but is quickly forced into submission by the suit. He accepts what it is saying and it let's him free.
May, Spider-Man's young daughter, has a nightmare involving Spider-Man killing her mother. She opens the door to her room and finds Spider-Man there, taken over by the costume.
Reception
Edit
The issue receaved mostly postive reviews. IGN said, "697 is unique because Spider-Man faces his darkest fears, and the creepy new costume makes them seem real. Stan Lee's return has brought nothing but greatness to the franchise, exploring Peter Parker as a character."
Ad blocker interference detected!
Wikia is a free-to-use site that makes money from advertising. We have a modified experience for viewers using ad blockers

Wikia is not accessible if you've made further modifications. Remove the custom ad blocker rule(s) and the page will load as expected.