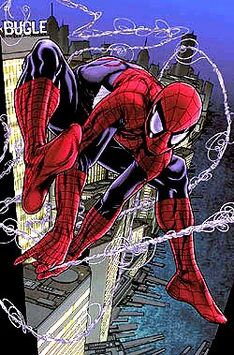 Extreme Spider-Man was a comic series that ran under Marvel publishing company. It is basically like Ultimate Spider-Man, but for pre-teen audiences. It was cancelled, and is rebooting under the title Extreme Spider-Man Comics.
The plot is a basic rehash of the other Spider-Man books.
Volume One: Origins
Edit
#1: The World According to Peter Parker.
Edit
The readers are introduced to Peter, Gwen Stacy, Uncle Ben and Aunt May. An ordinary day in the life of Peter Parker.
#2: It Takes a Theif, Part One
Edit
Adrian Toombs is locked in his labortory, and too escape, uses a prototype flying model. He decides to take revenge on his employers by destroying most of their stockholdings. His attacks attract Spider-Man, whom he defeats with ease.
#3: It Takes a Theif, Part Two
Edit
Coming Soon!